Sep 30 2010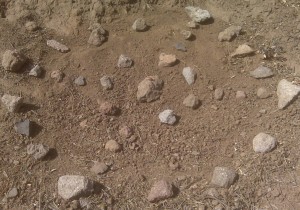 August 3, 2010
Hi! I booked my flight to Nepal tonight and I will be travelling through the month of October. I start with a Habitat for Humanity build in Pokhara. I will be working with 460 people from around the world to build 50 houses in ten days.
The houses were all funded by micro financing. Instead of each family striving for a home, eight families pooled their resources in order to earn one house at a time. A much more efficient way to get ahead and meet a fundamental need.
As a teacher, I was dedicated to collaboration instead of competition. This is a beautiful illustration of the power of community and seeking a win-win solution.
The remainder of my stay I will be living primitively with a shaman learning about natural ways of healing utilizing Earth honoring techniques.
I feel called to do this work at this auspicious time in the evolution of the planet. I am dedicated to the task of morphing ancient ways into our future. They are simple, natural ways of healing that can create profound shifts on all levels of being. Those of you who have experienced  the Hucha Ceremony understand what a powerful catalyst for change it can create. I feel both honored and humbled to have been initiated to bring this tool to our community. I know there are many more blessings just waiting for me to retrieve and make relevant in the modern world.
If I had been born in another place in time, my work would have been supported by the community to whom I served. In the modern world, it is difficult to feel that sense of belonging and support.
My work is motivated by a desire to be a hollow bone and a conduit of Divine Love. I do not have set hours.  I have had people land on my doorstep at midnight with a genuine need for a session, and it was my joy to be there to assist.
I believe in Divine Providence, and my ceremonial work is done on a gratitude blessing basis. It is based on the principle of reciprocity where giving and receiving are held in the balance of appreciation.
This next adventure will cost about $5,000, and I need your help. I would love to slip you in my pocket so you can tag along on my journey. In exchange for your donation I will:
Send updates about my experiences, insights and teachings.
Make video available for you to check in and see, hear and be inspired by my interaction with people from half way around the world.
Invoke your name, visualize your face and connect your energy to each Medicine Wheel I build with blessings for you and your loved ones.
Return to you with deeper wisdom, expanded consciousness and new tools to better serve and support your journey.
Provide a means by which you can experience the thrill of adventure from the comfort of your computer. I offer a no risk way to live vicariously and step boldly into a more meaningful way of being.
The research I am gathering will eventually be assimilated into a book. My hope is that this book will be helpful to all of us, as well as future generations. These ancient ways, and the elders who carry them, are dying off. The indigenous way of life that is in harmony with the Earth and all living beings is near extinction.
The dominant culture has detached from the natural rhythms and sanctity of life. Like a droning sound in the background, we have been lulled into a deep sleep. This unconscious detachment undermines the potential renaissance on the horizon of humanity. It is with urgency that I make this quest before these teachings and ceremonies disappear from the collective awareness.
Please contribute what you can and with sincere appreciation, I promise to serve the highest best possible good.
The deadline for tax deductable donations in my name with Habitat for Humanity is Aug. 15th. www.habitat.org/cd/gv/participant.aspx?pid=93345928
You can also make checks payable to Suzanne Rouge up until my departure Sept. 25th.
Bright Blessings